"This is a memoir I never wanted to write about a series of paintings that I never wanted to paint." 
This opening sentence of With Every Brushstroke encapsulates so much about my project that I am about to share with you. Although we don't have a say in when our loved ones leave us, we can choose which path we take to move through our pain. 
Losing my identical twin in 2009 to cancer after a long, arduous battle with her health nearly destroyed me. As a remaining twin, I had no idea how to navigate as a 'singleton' in what felt like a completely alien world to me. Suzanne and I were extremely close, and although years of health battles sounded obvious warning bells, her death left me feeling half alive.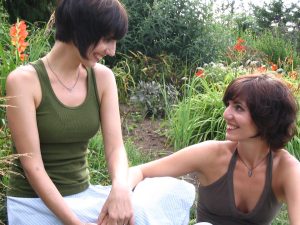 Although I was blessed with a supportive and loving family, love alone couldn't put the pieces of me back together. After the initial numbness I felt upon her death finally subsided, the agonizing loss of identity and overwhelming grief took over. I was not doing well, by any means. Even with love around me, missing my other half was becoming too much to bear. 
Suzanne and I were both artists and it was her voice deep in my soul that inspired me to use my talents to address my grief. This memoir describes the healing journey I undertook, creating a series of six large oil paintings in her dedication. The series took almost ten years to complete and as these images were so intimately personal I realized l needed a way to share them, without parting with them. Gallery showings have their own limitations, and aside from that I felt that the very description of my artistic process and the healing I undertook was important to share with others as well. 
This is where the concept of digital storytelling came to me. Initially, I had considered publishing a traditional illustrated art memoir book. But with further consideration, I knew the chances of a publication having great reach were slim. Enter the concept of creating a visual digital journey seen through the mind and process of a grieving artist. This website is the result of countless hours of planning, quite similar to the preparation that goes into the planning of an actual painting.
I could write more about what it is like to lose a twin here, but I welcome you to view my heartfelt project. I created this website to freely share, in hopes to inspire others to use their creativity to gently move through their pain.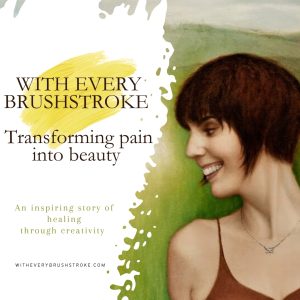 With Every Brushstroke: transforming pain into beauty: Click Image on Right
By Monique Richard
https://www.witheverybrushstroke.com/
Free, Non-Profit and Non-denominational
We invite you to submit your thoughts, essays, poems or songs. Please send to info@aftertalk.com. To see past AfterTalk Weeklies, CLICK HERE