by Chanel Brenner
Stretching my legs
after a walk down our old street,
my dead son's face came to me,
the scar below
his left eyebrow, the window
of his missing two front teeth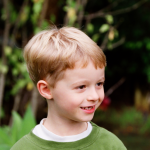 so clear, I had to sit
for a minute, on someone else's porch.
You'd think we'd heal, yet today,
at our younger son's game,
as Desmond raced toward home,
his father cheered, Go Riley!
We stared at one another,
seeing our first son
fall all over again—
skull of memory cracked open
against concrete,
our new grief spilling.
"We Never Heal, Just Remember Less" first appeared in Spoon River Poetry Review.
Every Thursday we publish "AfterTalk Inspirational." We invite readers to submit their own poem, essay, or suggestions for inspirational quotes for publication. If you are a therapist you are welcome to extend this invitation to your clients as well. Please send your submission to info@aftertalk.com