The most amazing fact that any of us will ever encounter is that we were born. The second is that we die.
Death rejects logic. Loss can't be contained. Losing a loved one strikes at the most raw, intimate regions of the heart. It tears away what we hold true, and exposes us to a deeper reality, one that we spend our lives running from.
There is a smattering of music celebrating birth, but far more grieving death. I've always been fascinated by the music and literature of grief.
How are we artists charged with responding to loss? Isn't it one of our most sacred duties? I've always thought so. But duty is the wrong word. Composing and writing are my most powerful tools to process grief. Some of the oldest and greatest of epics are devoted to the loss of a loved one, Gilgamesh, The Odyssey, Milton's Lycidas. There seems to be less of this with music. Of course there are the great requiems, such as Mozart's which was written for his father, but these often are written not for an individual but for collective loss, or for religious purposes. I was told that upon losing his son a Sufi seek named Pir Viliyat Khan started every day for six months listening to Bach's B minor Mass. No doubt music can be therapeutic and help us work through our emotions.
What are the finest songs mourning the death of a loved one in music? Some of mine are: Vince Gill's "Go Rest High," James Taylor's "Fire and Rain," Warren Haynes "The Deep End," Wille Nelson's "It's Something You Go Through," Emmy Lou Harris' (of a sort) "Me and Willie." What are yours?
It seems important to remember. Perhaps this is why I've organized "tribute" concerts. It's not for nostalgia's sake it comes from a conviction—We won't forget you! Of course all of us will be forgotten in a hundred years, but…we must celebrate each other while we're still here. I've written quite a few pieces for the departed: "A Magnificent Death," written for a friend, from Search, "Last Waltz for Queva" from Urban Myths, "Northwest Jewel" from Passing Train for Ken Kesey, a soon-to-be-published guitar duo for my cousin, Rob Stein, and "Yellow Socks" from The Other River, which was written for my father. This last one is awfully hard to listen to. My wife refuses to hear it. It's so raw and vulnerable, esp. my unschooled singing, that it ends up being tough to sit through.
Which probably makes it a success.
There death is, sitting right there waiting for us. Oh, but to hide.
I savor being devastated by a tragic work of art. Sure, art is fun, entertaining, celebratory—but to me one of its deepest imperatives is to help us encounter reality. And reality, at least as I experience it, is not often built from the air waves of hit radio or the sugary treats of Hollywood much as much as I may enjoy those diversions. One devastating song in a set will make me love an artist forever.
Reality is always in death's closet. Maybe even its bedroom.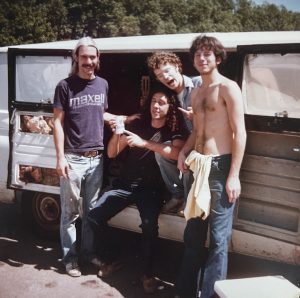 Four years ago I lost my oldest and closest friend to a sudden heart attack. I was visiting my sister-in-law outside Chicago taking a peaceful lakeside walk when his wife called me with the news. Unable to even speak I staggered back to the house and shook and wept for an hour straight with my head on my sister-in-law's partner's chest. By the next day I began wondering what the music  of my grief for his death would sound like.
We've all been there…in these shadows.
Songs that explore this world are hard to write and harder to perform, but to me they are homeopathic. I come away with a little healing.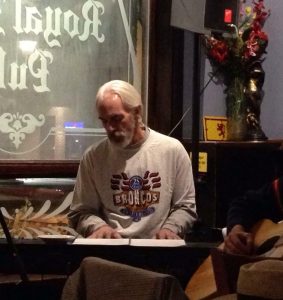 Here is a song I wrote for this friend. For two years all I had was what became the bridge:
I'll meet you where the wild wind blows
I'll meet you where the deep waters flow
On that long stretch of the open road
Finally I figured out where I needed to go. I had enough distance to depersonalize it and come up with something which I hope is somewhat universal. Guys don't often write songs like this. Am I correct? But I'm pretty sure we need them. Trying to be tough is hard work. Sometimes you have to cry.Please feel free to share this with anyone who may respond to it. My nephew, Ian Katan, did the graphics.
Free, Non-Profit and Non-denominational
Every Wednesday we will be publishing Pandemic Weekly for, we hope, not too long. We invite you to submit your thoughts, essays, poems or songs. Please send to info@aftertalk.com. To see past Pandemic Weeklies, CLICK HERE