What Martin Luther King's Daughter Has to Say About Grief
by Lynda Cheldelin Fell
She was just 5-years-old when her famous daddy, Martin Luther King, Jr., was assassinated. Thanks in part to the Pulitzer Prize-winning photo of the young Bernice King on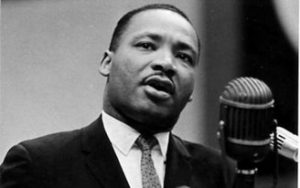 her mother's lap, most are familiar with that story. Yet a recent New York Times  article about complicated grief caught my attention, and took me back to a conversation I had this past April with Martin Luther King's youngest daughter.
Now 52, Dr. Bernice King sat down with me in Indianapolis to discuss a lifetime of losses, a conversation that bears bringing to light as we work to better understand grief and it's complicated aftermath. According to the 2013 version of the American Psychiatric Association's Diagnostic and Statistical Manual of Mental Disorders, 12 months is the point past which continued symptoms of intense grief may constitute a disorder. Dr. Katherine Shear, director of the Center for Complicated Grief, proposed a threshold of just six months.
Many disagree with the notion of such limited spans for recovery. As we continue to debate acceptable timeframes for moving through sorrow, it's important to explore different journeys and the long range effects from same. And I believe my conversation with Dr. King is a valuable contribution to this dialogue.
Dr. King's first loss, the assassination of her father on April 4, 1968, is well known. But many are unaware that from five to 25, Dr. Bernice King experienced a total of seven traumatic losses that, not unexpectedly, greatly impacted her personal life.
The year following her father's murder, Bernice was vacationing with family in Jamaica. Her father's brother had left the group early to return home to Atlanta and, one week later, was found dead in his swimming pool.
"I was six and my mother tells me I blurted out, 'I'm not going to any more funerals!' Of course, being a 6-year-old, you have to do what your mom says you have to do, so I did go to the funeral. But he had become like my surrogate father. So this really began a journey of trying to understand what loss was all about," she said.
It also marked the beginning of a timidity towards relationships.
"After my father died, there was this picture on the wall and he was smiling with these young girls in Mississippi. I'm thinking that my daddy left me for these girls. I'm in my head, as a 5-year-old, because I didn't have anybody there helping me to process it consistently," she said.
Aware of her mother's newfound responsibility to continue the growing civil rights movement, young Bernice kept the fears to herself. "I didn't talk to my mom, because my mom had an extraordinary calling on her life that I'm grateful for today. But at that time, as a kid, it was like no, I want my mom! But I felt uncomfortable disrupting her. It was like I need to let her do what she is doing, so I'm just here alone processing all of this," she said.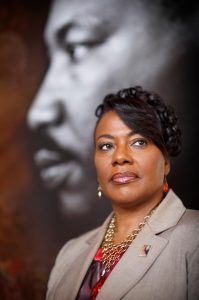 In June 1974, at age 11, Bernice underwent a tonsillectomy. The routine procedure kept her homebound for a few weeks, and she was looking forward to returning to church. "I was really looking forward to seeing some of my friends and seeing my grandparents again. We pull up at the church and there was an ambulance outside," she said. A deacon approached the family's car to break the news that Bernice's grandmother had just been shot.
Understandably, Bernice developed a fixation on who could be next.
"Because it just seemed like to me, at that point in my 11-year-old mind, death was after my family," she said. Creating a mathematical formula, she tried to foresee future losses so she could prepare herself. "I was always on edge, just looking for death to come our way."
Two years later, Bernice's 20-year-old cousin died while out on a jog. At that point, Bernice admits that confusion set in. And sadness. "Being a child, as I moved into my teenage years I started developing anger. Because I didn't understand, and there was nobody there to help me to process it," she said.
She remembers the emotional whirlwind and the intense anger that provoked her to act out during her teen years. "Now I'm Dr. King's daughter, Coretta Scott King's daughter, but that didn't matter because I had all of this pent up inside of me. And it was as if nobody was there to help me, and I didn't know fully how to process what was going on," she said.
We talked about how hurt people often lash out to release the angst. Dr. King admits that because no one taught her any coping skills to handle all the losses, she used words that cut like a knife. "I would kill people with my tongue, and it felt good. It was almost like that adrenaline rush, because I felt like life dealt me a bad blow, that I could get some folks back. So hurt people, it's true, they hurt people. This is why this [our discussion] is important," she said.
In 1984, Bernice was at church preparing for a Sunday choir concert when she learned that her grandfather died of a heart attack. Bernice had recently made an effort to spend more time with him. "And then he's gone. So what does that do? Every time somebody dies for me, because it kept happening, it's like I never had time to heal before the next one came. So all of that comes back up and you're carrying it, and you're trying to move on with your life. Because we haven't found a way in our society, particularly in our culture, to carve out time for people to grieve, processes for people to grieve," she said. Few would argue with that statement. When asked about counseling, she replied, "The culture around me, we just kind of keep moving which is unhealthy to say the least. Unfortunately, in our culture … we don't do a good job of grieving. And there is a stigma almost if you find yourself in counseling. Because we think if you do that, something is wrong with you."
In 1990, having just graduated from law school, Bernice took an opportunity to counsel kids housed in juvenile detention. Delving into their upbringings, she became convinced that the point at which youth start getting in trouble is the point at which they had a separation or loss. "And I couldn't understand why no one was paying attention to it. It was very obvious to me that a lot of this acting out, because of my own journey, because I was doing stuff, cussing people out, quick temper. It is just dealing with the loss, separation, trauma, tragedy, and no one to help you process all of it," she said.
The two years she spent counseling trouble teens convinced her of a belief she holds to this day: "I really believe that a large percentage of the crime and delinquency we see in our society is due to a lack of proper grieving on the part of these young lives."
I asked Dr. King if she has ever been afraid of her grief.
"Yes. Afraid in the sense that a lot of times when I would cry, it was so uncontrollable that it became [physically] painful." She also learned from a young age to remain composed in the public eye, lest suffer at the hands of public judgement. "I learned to be composed from watching my mom from a young age. It was this unknown about losing control. What is that really about? And I was afraid that I could lose control and not know where I would end up," she said. She admits that as Martin Luther King's daughter, losing control wasn't an option.
"As a nation, I surmise that we do not grieve enough. And in many respects I would say that many of our issues that we are challenged with in society is a direct result of a lack of grieving," shares Dr. King.
Source:  (http://www.theblaze.com/author/lynda-cheldelin-fell/)
Every Wednesday we will be publishing Pandemic Weekly for, we hope, not too long. We invite you to submit your thoughts, essays, poems or songs. Please send to info@aftertalk.com. To see past Pandemic Weeklies, CLICK HERE