Editor's Note: Affordable Colleges Online has created an outstanding guide for students who have lost a loved one while attending college. The introduction is below along with excerpts, followed by a link to the entire site and some excellent links to other resources. LL
Managing Grief While in College: A Guide to Navigating One of Life's Toughest Assignments
Dealing with grief is often one of the challenges many college students will likely face while matriculating through school. Coping with loss can be especially challenging for students away from their family, often for the first time ever. "Across studies we see that 35 to 45 percent of college students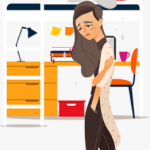 are within two years of the death of a family member or a friend," says Heather L. Servaty-Seib, an Indiana-based psychologist and expert in the areas of adolescent bereavement, social support and grief. "One recent study indicated that just over 30 percent of college students may experience a death each year."
To put it plainly, grief should be taken seriously no matter the cause. This guide will provide some insight into how college students may best manage their grief and highlight some of the many resources available to help them cope.
The death, or impending death of a relative, friend or pet is the most expected and well-known trigger of grief among college students. "In terms of death losses, the two most common are the death of a grandparent and the death of a friend," says Servaty-Seib, who is co-author of "We Get It: Voice of Grieving College Students And Young Adults." "Interestingly, these two may also be the most commonly disenfranchised experiences of grief faced by young people. It is not common for society to [not] give as much acknowledgement or even as much weight to these losses as they might to the deaths of parents and siblings. However, these losses are crucial to college student development."
Regardless of the relationship one had with the person who died or is dying, Servaty-Seib says it is important to acknowledge that everyone grieves differently based on the specific relationship he or she had with the deceased. "The best approach is to be open and direct about how everyone will grieve differently — and how it's not only okay, it is absolutely to be expected," she says. "Family members need to be respectful of those differences and be open to conversations about those differences." The death of a fellow young adult, such as a classmate or friend, often hits especially close to home, too, because it forces the student to face — often for the first time in their lives — his or her own mortality. Losing a peer to suicide is of especially high concern among young adults, too. "The research shows that it is the leading cause of death among teenagers and young adults," Coleman notes.
TO CONTINUE READING, CLICK THIS LINK:

Affordable Colleges Online provides community resources and tools related to higher education with an eye on affordability and accreditation. Click the logo to visit the homepage.