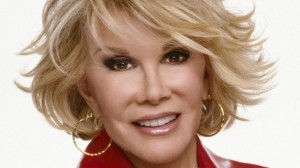 Dear Joan Rivers,
You were the only one of the countless celebrities that he cared for who reached out to me and my children after my husband Allen Epstein, committed suicide. Your affection for him was clear as his had been for both you and Melissa, but you were determined that day to make sure, with more than one phone call, that you would speak to me. You told me about how you understood what it was like, and would be like to have your husband and the father of your children commit suicide. You knew because your husband and Melissa's father, Edgar had committed suicide.
You insisted that I call the doctor who had been helpful to you during those dark hours. I listened to you. You followed up and called me again to make sure that I did. Your advice and strength was a source of hope and a lifeline for me and my two young children. I mourn your untimely passing and know that Allen would have shared that sense of loss with me.
Your daughter wrote that you would want us to laugh again. I wish the same back to her. Ironically, humor born out of extreme personal sorrow is the human mind's most effective elixir. Thank you for your doctoring of my soul.
Wendy Epstein