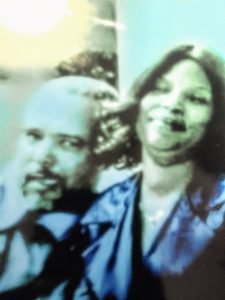 It is so amazing as I look around to see,
everything glittering but yet I feel empty.
Today was the day we said I do.
.Who would have thought? Who would have knew.
That you would leave me with a empty space in my heart, being when I first laid eyes on you.
It was love at first sight.
I miss you more than words could say,
not only now but everyday.
You will always be that light that shines, the bridge over troubled waters, the many ways to say I love you.
Your just a wink away, a smile nearby,
and a thought that is bluer than the sky.
Remembering you always and forever.
You've been my lucky charm and four leaf clover.
I dedicate this poem to you and want to say Happy Anniversary.
I love you William
by Sylvia Faircloth
Sylvia: "We are both from the same town and went to the same church. We met and both had the same feelings. He was a Air Force man and he always liked things in order. He was caring, compassionate and loved family. We laughed together, played together, cried together. We loved traveling and had many things in common. He was so excited on our wedding day and I've been excited every since. Like most couples we had good days and bad. But our good days always weighed our bad days. He will be missed by me."
Every Thursday we publish "AfterTalk Inspirational." We invite readers to submit their own poem, essay, or suggestions for inspirational quotes for publication. If you are a therapist you are welcome to extend this invitation to your clients as well. Please send your submission to info@aftertalk.com