On the heartbreaking new Lukas Graham single "You're Not There," frontman Lukas Forchhammer sings about his father's death and the events he won't get to share with him.
"You're not there to celebrate the man that you made / You're not there to share in my success and mistakes / Is it fair you'll never know the person I'll be / You're not there with me," the tearjerking ballad's chorus goes.
Now that the song's lyricist has become a parent himself, the song is all the more poignant.
"Most songs take on new shapes and forms as you progress through life," says Forchhammer, 28.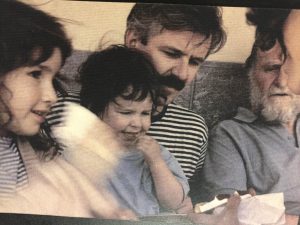 Forchhammer grew up in Christiana, a hippie commune in Copenhagen, and formed the band Lukas Graham after dropping out of law school. The Danish pop group found success in Europe after posting songs on YouTube and, with the help of Forchhammer's dad Eugene, booked shows and toured. But just as they began building buzz on tour, Forchhammer's father died in September 2012.
The loss sent the young singer, 24 at the time, spiraling for a time — before he reined in his grief and channeled it into his music, informing the band's entire debut album, Lukas Graham, as well as their breakout single "7 Years."
I only got you in my stories
And you know I tell them right
Remember you and I, when I'm awake at night
So give it up for fallen glory
I never got to say goodbye
I wish I could ask for just a bit more time
Every step I take, you used to lead the way
Now I'm terrified to face it on my own
You're not there
To celebrate the man that you made
You're not there
To share in my success and mistakes
Is it fair?
You'll never know the person I'll be
You're not there
With me
Though I know that you're not there
I still write you all these songs
It's like, you still got the right to know what's going on
As I struggle to remember how you used to look and sound
Sometimes I still think I can spot you in the crowd
Every step I take, you used to lead the way
Now I'm terrified to face it on my own
You're not there
To celebrate the man that you made
You're not there
To share in my my success and mistakes
Is it fair?
You'll never know the person I'll be
You're not there
With me
Time can heal your wounds if
You're strong and standing tall
I've been doing all of that, it didn't help at all
They say you'll grow older, and it'll get better still
Yes, I will, but no it won't
They don't get it,
'Cause you're not there
To celebrate the man that you made
You're not there
To share in my my success and mistakes
Is it fair?
You'll never know the person I'll be
You're not there
With me