"Fly" by Celine Dion, was an expression of her grief as her niece Karine died from Cystic Fibrosis.
Celine began promoting public awareness of cystic fibrosis, as her niece fought the deadly disease. In 1993, Karine died at the age of 16 in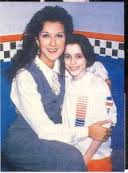 Celine's arms while she was singing "Vole" (French for "Fly") to her. Years later, Celine had this to say about life and death, in an interview with Reader's Digest:
"We're all going to lose people that we love. We lose our mothers and we lose our fathers, and sometimes I think that if I go first, maybe it would be better. But it's not better. It's not the way it works. Hopefully, we can be together as long as possible. Every day we have is fortunate. Live for the moment.
Even though sometimes (death) goes through your mind, it's not really something that you say, "What am I going to do if…?" You deal with this if and when it happens and you'll have to find the strength. Everybody goes through some things like that. That's life. Life is death; death is life— it's part of it, unfortunately. Life's just been given to us for a small moment."