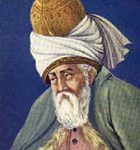 Your grief for what you've lost holds a mirror
up to where you're bravely working.
Expecting the worst, you look and instead,
here's the joyful face youve been wanting to see.
Your hand opens and closes and opens and closes.
If it were always a fist or always stretched open,
you would be paralyzed.
Your deepest presence is in every small contracting and expand
the two as beautifully balanced and coordinated
as birdwings.
 Mewlana Jalaluddin Rumi
Rumi is one of the most widely read poets in the world.His poems have been widely translated into many of the world's languages and transposed into various formats. In 2007, he was described as the "most popular poet in America."
Rumi was born on the Eastern shores of the Persian Empire on September 30, 1207, in the city of Balkh in what is now Afghanistan and finally settled in the town of Konya, in what is now Turkey. Today three countries claim him as their national poet: Iran, Turkey and Afghanistan. However none of these countries as they are today actually existed back then. Iran was called the Persian Empire, a monarchy, and it was quite larger than it is today. It included all of today's Iran and Afghanistan also parts of Pakistan, Turkmenistan, Tajikistan, Uzbekistan, Turkey and Iraq. Turkey had not yet formed then and Afghanistan was part of the Khorasan Province in the old Persian Empire.
Rumi's life story is full of intrigue and high drama mixed with intense creative outbursts. Rumi was a charming, wealthy nobleman, a genius theologian and a brilliant but sober scholar, who in his late thirties met a wandering and wild holy man by the name of Shams. In Rumi's own words, after meeting Shams he was transformed from a bookish, sober scholar to an impassioned seeker of truth and love.