AfterTalk's Blog Talk Radio brings you a special interview with the authors of "Meaningful Moments: Ritual and Reflection When a Child Dies." AfterTalk Co-Founder Lisa Bogatin interviews authors Rana Limbo and Kathie Kobler on BlogTalk Radio's AfterTalk Live
Dr. Danai Papadatou describes the book in these terms:
"These 'meaningful moments' are not measurable, but fully lived; they render the reality of loss more bearable, meaningful, and-whenever experienced as 'extraordinary'-are carried in memory forever."
Rana Limbo and Kathie Kobler wrote "Meaningful Moments: Ritual and Reflection When a Child Dies" to shed light on the tender moments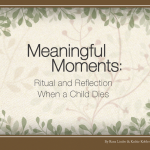 between children, parents, and caregivers. Known for their writing, speaking, and research that focuses on relationship, the authors skillfully bring together elements of relationship, reflection, ritual, suffering, and hope and introduce a guided approach to co-creation of ritual. This thought-provoking and spiritually rich book features stunning photography and reflection points that allow the reader to pause and consider the book's content juxtaposed with the reader's own experiences. Parents of a child who died at any age will find stories from other bereaved parents, which will provide ideas and inspiration for honoring their child's memory.
To hear the full interview, tune into BlogTalk Radio at your convenience using this link:
AfterTalk Live on BlogTalk Radio
"Meaningful Moments" is available for sale at by clicking the image above. "Meaningful Moments" was published and underwritten by Resolve Through Sharing. Resolve Through Sharing (RTS) is a not-for-profit organization providing thought leadership, and an evidence-based yet compassion-first approach to bereavement care. They deliver training and support materials to those who provide care for patients and families experiencing loss through dying and death. Their website can be found by clicking this link: