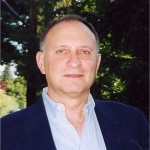 In case you are tired of hearing from me about grieving during  holidays, or about my experiences surrounding my first wife's passing, I found some other voices you might want to listen to.
Jamie Greenbaum writes most eloquently about her husband's death from cancer. This article appears in the Huffington Post's website and discusses her first Thanksgiving after her husband's death. In her case, her previous Thanksgiving was spent in a hospital cafeteria while her husband underwent surgery., but let her tell it:
http://www.huffingtonpost.com/jamie-greenebaum/grief-tears-laughter-first-thanksgiving_b_4351700.html
I found a later post by Ms. Greenbaum very moving:
http://www.huffingtonpost.com/jamie-greenebaum/death-of-spouse_b_4379687.html
For good advice in general about getting through the holidays after a profound loss, read this article by Dr. Alan Wolfelt of the Center for Loss and Life Transition:
https://www.centerforloss.com/tag/holiday-grief/
Our friends at Open to Hope published this excellent piece:
http://www.opentohope.com/embracing-holiday-bereavement/
It gets better with time. I promise you that. If, after some time, you feel things are worse, please reach out for professional help. Start with a local Grief Counselor. If one is not available where you live, ask your physician to recommend a psychiatrist or psychotherapist. There's no shame in it. I began seeing a psychiatrist who specialized in cancer victims and their surviving loved ones before my wife passed, but after we had learned our options had run out (many of you know what I mean by this). I saw her for the next year, and it changed my life.
In another post I discussed how to find a grief counselor. Here's the link:  Professional Help
One more thing to consider for the holidays is to use the free services to write to your deceased loved one. It works. Here's the link: AFTERTALK
That's all for today