A Prayer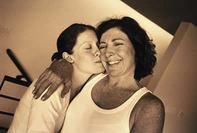 I used to be part of you
belong to you
the extension of your being
but now
you live within me
are the spark of my consciousness
I say prayers for you
With you
as you
sing your melodies
speak your words
hearing your voice in mine
and my eyes
too green
have somehow started to reflect
the blue of yours
I used to be part of you
protected by your presence
by your light
but now
the time is mine
and alone
I must be more than myself:
your child
has become your heir
has become you.
adapted from Mishkan T'filah
SPECIAL ANNOUNCEMENT
 Don't miss our newest BlogTalk Radio Show airing LIVE on 12/03/14 at 3pm EST. Our guest is Robert Neimeyer PhD, Author and Professor at The University of Memphis, and the dean of grief counseling. Topics range over Dr. Neimeyer's personal journey, Continuing Bonds Grief Therapy and the value of writing as a therapeutic tool.