by Louise McOrmond-Plummer
The crie de coeur of most people when a loved one dies, seems to be "How do I live without him/her"? There's no doubting that this is one of the most daunting aspects of grief and loss. People are being asked to do what may have been completely unimaginable to them. Certainly it felt that way to me when my husband Ken died of cancer in 2016.
Author Elizabeth Gilbert lost her long-time partner in 2017, and writes, "I cannot live without Rayya, so I don't: I draw her near." I love that so much; for me it is a defiantly-raised middle finger at death and has aided me immeasurably. It occurs that for me, the question of how I will live without Ken has fundamentally changed. And, that question was in fact answered with crystal clarity as far back as when we knew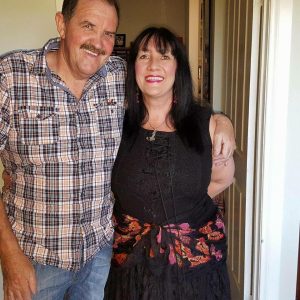 he had cancer three years ago: I cannot live without Ken. It's that simple, it really is – but I thought, as many people no doubt do, that I would just have to force myself to learn to live without him. And in all honesty, I would rather have died myself. I didn't know enough then to say to my ruined heart, "Of course you can't live without him, and that's okay"
I've recently had a lovely flash of insight. The question has become "How do I live WITH Ken now? What does it mean to live not without, but with a spouse who is no longer here physically?" I think this is a great question to carry into my third year of widowhood, and I of course realize that I've been instinctively figuring out for two years how to live with Ken in this changed relationship. I talk to him, sing to him; take weekly fresh flowers to his grave so that I can still take care of him; post affectionate rambles to him on Facebook, invite him to come and watch TV with me; think of creative memorializings that keep a little bit more of him in my world. I continue that precious bond at all costs and keep trying to get my heart to understand that it will never be lost. And I think I have more and beautiful ways to discover yet, of how to live with Ken now. I look forward to them.
None of this is to deny the very sad parts of living without a loved one physically: The other day I heard that old song by Billie Jo Spears, "Blanket on the Ground," about a middle-aged couple still very much in love physically as well as emotionally, just like Ken and I were. The
thought of never again having that sort of intimacy with my Ken for the rest of my life frankly slaughtered me for the rest of the day. I'm still glad though that for me, the "how to live without" question has changed. Working out how I live WITH my Ken now, is integral, nay, essential to living without him, if that makes sense. I cannot live without Ken, so I don't – and here it might be appropriate to finish with another terrific quote from Elizabeth Gilbert  (who does a daily dance with her Rayya): "For anyone who is suffering loss, I encourage you: be creative. Be inventive. Be strange. Demand union. Find ways."