Dealing with emotional triggers after loss — weddings, anniversaries, birthdays, and other events
The first year after a loss is particularly difficult because you're bombarded with so many changes, and you're not sure how certain milestones (your anniversary, birthdays, holidays, etc.) or other situations will become emotional triggers. If you're prepared, however, you can turn a potentially difficult situation into a memorable and positive experience. For example, after Paul, who was my husband and had passed away from cancer in 2006, I became increasingly nervous as his birthday approached. How could I possibly face his birthday without him? Then the answer dawned on me—I'll give him a party.
Change your perspective about birthdays, holidays, and anniversaries
Suddenly, I changed the dynamics of that day from one of dread to an event that I looked forward to hosting. I invited the friends who had helped to cook our family meals while he was sick, did errands, visited, and provided emotional support to help me through his illness. I asked them to think about a humorous or interesting memory of Paul that they could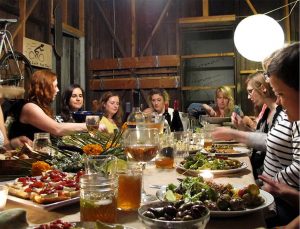 share, and I brought a photo album with pictures of him to the dinner. We ate his favorite food and toasted him, and the day turned into a wonderful celebration and an opportunity to thank many of the people who had been so helpful when I needed their support.
I've shared this experience and people have told me that taking this perspective on an upcoming birthday was very helpful to them. Some of them decided to have small celebrations with a few members of their family to get through similar milestones. Others visited places that their loved ones enjoyed, such as the beach and hiking trails, and brought friends and family there.
In 2021, two of my relatives, who both died in 2020 during the pandemic lockdowns, coincidentally shared the same birthday. The family was scattered throughout the country, and so I suggested that we honor them with a virtual gathering that day on Zoom. We shared some memories and got a chance to check in on one another as well. The virtual "celebration" helped bring us together and make what could have been an emotionally challenging day much better. One friend I know "adopted" an elderly woman whom she invited over for a Christmas dinner. It was comforting for both of them, and it helped my friend to feel less lonely after her mom had died.
The first wedding anniversary after your spouse has died is likely to be the most difficult one, so I encourage you to think about it in advance and consider spending that time with friends or family. If you prefer to be alone, be extra kind to yourself that day and know that you will get through it.
Checklist for coping with additional emotional triggers
Sometimes you just don't know when something will trigger an emotion that you aren't expecting. Understand that these emotions are a normal part of grief. This checklist can help you cope with emotionally laden milestones and situations that could set off feelings of loss.
Weddings and Graduations: Focus on the joy of the day. Write down in advance what you can do if you're overcome with regret that your loved one can't experience these events. Perhaps write a letter to your friend or relative before you go, explaining why you're sad they can't experience this event. It helps to understand those feelings so that you can work them out in advance.
Funerals and Memorial Services: If you're attending a service too soon after your loss, consider whether you're emotionally ready to be there. Determine if the benefits of attending outweigh the feelings of being uncomfortable. Many people find these events
Births and Other Happy Events: Journaling can help. Write a letter to your relative or friend and explain how you felt when watching the birth of your grandchild or attending the child's sporting event, confirmation, baptism, bar mitzvah, or other ceremony. If this child was a descendant of the person who passed away, describe how this child may have inherited a particular talent or trait from that person, who helps keep their memory alive through the generations.
Day-to-Day Difficulties: It's common to experience times when we wish our relative or friend could be there to guide us through a career crisis, health issues, or concerns about children, grandchildren, parents, siblings, and other relationships; or to give advice on practical things, like buying a new car. Think about how this person would have helped you to solve this problem. If you're not sure, and you still need assistance, check in with someone who knew your friend or relative well.
Special Songs: Nothing seems to bring back old memories more than familiar songs. You could be enjoying a pleasant drive in the car along a scenic route, and then suddenly, the song that represented something special about that person starts playing on the radio. You might find it comforting to hear that music, but those songs can also make you cry. Stay with your emotions and know that the music you shared can create a response that could catch you off guard. Over time, it could bring a smile to your face.
As you begin to take control and proactively address these challenges, you can become more confident in your ability to move forward and adjust to the new normal. Loss can involve dealing with many different issues related to your living situation, finances, activities, memories, and relationships. Prioritize how you will manage these changes. Don't overextend yourself. Avoid making too many decisions too soon.
Learn more in my latest book, Beyond Loss in a Pandemic: Find Hope and Move Through Grief After Someone Close to You Dies.
Visit my website: https://lindadonovanbooks.com
Free, Non-Profit and Non-denominational
Every Wednesday we will be publishing Pandemic Weekly for, we hope, not too long. We invite you to submit your thoughts, essays, poems or songs. Please send to info@aftertalk.com. To see past Pandemic Weeklies, CLICK HERE