Editor's Note: we thought our members should read this first-person account of what it is like to be a spouse to a COVID victim during the disease's final stages. We've altered a few facts to protect the anonymity of the author. We don't agree with the author's assertions that hospitals profit from treating extreme COVID patients. COVID care was financially devastating for most hospitals. Also, thousands of health care workers gave their lives caring for COVID patients. 
I took my Husband to Dialysis on xx/xx/21, they refused to treat him because to was too weak from COVID Pneumonia , he was transported to the ER by rescue, while I parked my car and went into the ER, I was denied to see him because of COVID, I constantly asked for the doctors or nurses for updates they finally told the Receptionist at the front desk to tell me that they were admitting him and that he needed dialysis immediately and I could not see him.
I stayed at the hospital for 5 hours still being denied to see him, I went home and kept calling the hospital with no one answering, finally a nurse told me that my Husband was extremely weak but was doing better, they were able to get his blood pressure up and his O2 stats were better, I asked to speak with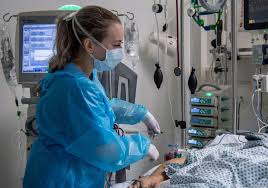 him but was told that he's sleeping a lot from the medicine and was very weak, I asked her to tell him I love him and I was not allowed to come see him she said she would. I don't know if she did, so  I continued to call his room no answer. I know I called his room at least 10,000 or more times hoping to hear his voice but no one picked up, no nurse or assistant.
Finally after a month I called and he picked up the phone I was so shocked, I said hello he said "hey babe." I started talking very fast I could hear his breath was short, I asked how he was he said in a sad voice I'm alright, I told him I've been trying to come see him but they were not letting anyone on the floor, he said o.k. .I told him to pray and to try to breathe better so he could come home, I told him I Love him and can't wait until he comes home, he then told me to call him back. I asked about calling at  12 noon. He said ok and asked him to make sure he answered the phone. The nurse said he was feeling a little better; I was soo glad to hear his voice, I thought he would be home really soon because he sound so good. I called at 12 noon but there was no answer for the rest of the evening, I called the nurse station, but still no answer. I called soo much the phone kept giving a busy signal. The next morning I went to work constantly calling on my way there, still no answer, About 10am  I called the nurse station and they answered I was told that my husband had turned for the worst; she said during the night he must have pulled his oxygen tube from his nose and he now required 10 liters of oxygen. I again asked if I could come see him now and was told No due to COVID, A nurse practitioner called and said they may need to intubate him but they weren't sure. I told him not to do anything until they called me because he was totally against ventilators, he always watched COVID news very closely and felt that the hospital was putting patients on vents to make money; therefore he did not want to be on a ventilator. I was told they would call me back once they spoke with the doctor. I never heard anything else.
I tried working and called when I got off work and was told he had to be transferred to ICU but was doing okay and stabilized , I was really upset because no one was informing me about what was happening, I'm thinking since they haven't called he was showing improvement , I was still denied the chance to come to ICU, I went home from work to talk to my Daughter, At 6:45p I got a call from ICU who told me that the doctor wanted me to come to the hospital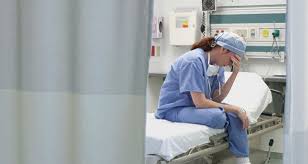 to talk about his health. I'm thinking they wanted my consent to put him on a ventilator, I was so prepared to tell them NO because he did not want it, It was storming: I ran all the way to the ER with my cousin, and when I walked in  my husband was looking at the door with his eyes open as if he was waiting for me. He had a ventilator, I walked to him and said hey Bebe, I'm so glad to see you. He was warm but didn't say anything. The Dr. touched my arm and said I'm sorry we did everything to save him, he didn't make it. I just lost it, I screamed and asked what have y'all done to him, I jumped on the bed, closed his eyes and held him, remember he had COVID with Pneumonia and I had been denied the right to see him for over a month, but they let me, my cousin, brother and sister-in-law in ICU the day he passed. How do they know at the time any of us were positive or if he could have transferred the virus to us at this point they didn't care.
I had begged to see him but he died alone. No one called to see if I wanted a Pastor to pray for his soul, no one could tell me if he cried, if he called for me, if he was mistreated, I felt they just sedated him and left him in the room alone on that ventilator until it killed him. I felt they didn't want me around because I would have saved him, I never signed a consent for him to be on that ventilator. They took my husband's life and did what they wanted and that was made money off a ill man who I trusted would help him these are horrible people who did not contact the spouse about a loved one.
My Husband died without a will because I wasn't allowed to see him prior to him being sedated with soo many meds, due to the stress and sudden death of my Husband and the facility where he died. Also where I worked I had to retire early. I hope that other families' loved ones did not have to endure this pain, it's been x months now and I have a little strength to seek legal advice. At this time I'm lost in my life, I never had a chance to say goodbye. Every other time my husband was ill and had to be admitted I was there, I would have put on PPE gloves and took care of him…
Free and Non-denominational

Every Wednesday we will be publishing Pandemic Weekly for, we hope, not too long. We invite you to submit your thoughts, essays, poems or songs. Please send to info@aftertalk.com. To see past Pandemic Weeklies, CLICK HERE