When you lose someone you love and are grieving Thanksgiving Day feels burdensome and painful. When a brain tumor took away our precious Katie's life I dreaded that holiday. For seven years we served no rutabagas because they were Katie's favorite vegetable. The thought of their seasonal aroma wafting through our home without her in it was too much to bear.
I don't share this part of me today to make you sad. I share it because you are my extended family and I am yours – we are all fellow travelers. During our lifetimes we will lose people or they will lose us because that's just the way the cycle of life goes.
When we suffer loss we question if we will ever overcome the pain of its paralyzing grief. We think we won't survive and we doubt we can ever feel happy again. Even poor Charlie Brown had doubts, "I think I'm losing control of the whole world," he once sighed. Giving thanks seems counter-intuitive, too, when we only feel like crying. But we can give thanks and we can go on. Here are a few suggestions on how to go about it.
• Make the conscious decision to live. That means you get out of bed every day and put your feet down on the floor. "Thank you for my feet" even if they don't feel like walking.
• Allow yourself private time and space to quietly listen to songs that were important to your loved one and cry some more; sigh some more; but then, switch to a different kind of music to distract yourself.
• Do something active such as taking a walk and meditating on your specific pain. Have a little talk with the beloved person you lost and allow your tears to flow; they are healing you.
• Write your longings for your beloved in a private journal; expressing your feelings is crucial for your journey through grief and sorrow.
• Go to someone else's home this year or to a movie instead if you don't feel like cooking– normal has been redefined for you. If you have children or grandchildren, hug them. Children don't always understand death but they understand life and it will rub off, I promise.
• Turn toward your mate or friends for consolation not against them.
• Remember, the stages of grief and loss – denial, anger, bargaining, depression, and acceptance are particularly intensified during holidays and that includes Thanksgiving, so consciously reflect more on your many present blessings and less so on your sorrow and losses. Our Katie told me more than once that someone else always has it worse and she was right.
• Pray for the strength and courage to accept your now life then pray some more. Meditate, do yoga, walk. Ask others to help you – friends, sensitive family members, a bereavement counselor or spiritual adviser. Yes, I know it's hard, I am not speaking in the abstract here; I am with you every step of the way.
• Consider all the other people in your life who love and depend on you. They need and want you there physically, emotionally and spiritually this Thanksgiving even if you are sad. Why? Because they love you and they want to give you an extra hug. We all need those extra hugs when we are hurting.
My friends, the Creator has planted an abundance of love and mercy in your heart for your loss. And while yes, we must surrender to the physical absence of our beloved, we also trust with all our soul that they are at peace now and we will be given the grace to find peace, too, and the courage to make this Thanksgiving Day and Every Day Matter.
Mary Jane Hurley Brant, M.S., CGP
Mary's extraordinary book is available in the AfterTalk Bookstore. Just click this link:  AFTERTALK BOOKSTORE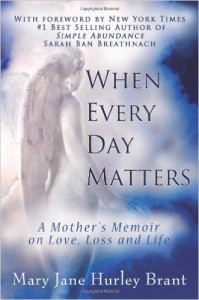 There are painful moments in life when we think we shall never recover: the end of a long-standing marriage, a devastating diagnosis, the catastrophic loss of our home or our livelihood. Then, there are moments in which we wish we'll never recover: when a child is wrenched from us through accident, illness, an act of cruel violence, a drunk driver, lost hope or war. In her courageous book, When Every Day Matters, M.J. Hurley Brant chronicles the first year of living without her beloved daughter, Katie Brant. For ten years Katie and her family lived with the diagnosis, treatment and progression of brain cancer. MJ shares with us not the story of a life lost through tragedy, but the legacy of a renewed life filled with grace, compassion, wisdom and choice. A life in which Every Day Matters. Living with grief is a lonely journey, but you don't have to do it alone. Within these pages you will find a reassuring companion who knows what you are going through because she's been there. From practical reminders to drink more water so that your body does not suffer the effects of dehydration on top of emotional devastation, to creating memory gardens to channel sadness, MJ Hurley Brant's words, suggestions and sentiments will comfort and guide you to an understanding that sometimes the only way we get over the unbearable is by going through it.