WHEN DO WE GET TO CRY?
By Penny Davis
Hospice Executive, Published Author and Memoirist
Like many little girls, I played nurse. My dolls were lined up in empty Kleenex boxes with various gauze wraps and band-aids on imaginary "boo-boos" that I tended to. I could often be found with one of my dad's crisp white hankies folded into a nurse's cap secured with paper clips.
In those days it was all about healing that set the course of my career plans. Now, 53 years later as a nurse with the last 30 in hospice I'm fully aware that not everyone gets well.
As we move through the endless days of COVID-19 my heart goes out to the nurses caring for these patients. The news reports give everyone a vivid view of the ER's and ICU's in hospital's nationwide. Nurses are striving to provide the very best care but who is taking care of the nurses? Of course, they have seen death but most certainly not like they are faced with now. People are dying in the ambulances, waiting rooms and hallways before they can receive care. The numbers are staggering.
Hospice is a calling. It is a privilege to be part of these teams and that is the key to this important program of care. Doctors, nurses, aides, social workers, chaplains, bereavement coordinators, volunteers, etc all support the team. When one discipline or the other is overcome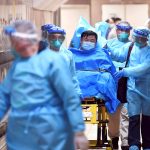 with the grief of the fact that all patients are dying then a team member is there to offer unconditional love and support. Hands are held and hugs are given to patients, families and the team but it wasn't always this way.
In the 1960's as a young nurse I vividly recall that families full of little hope and grief often stood at the end of the patient's bed or even at the door because they didn't know how to act or what to say. Nurses were careful to not discuss death. Over the years, we have all learned the extreme value of hospice and the need to support for the nurses providing care for the dying patient. COVID-19 will play through the minds of nurses throughout their career. There are events happening that quite simply can't be "unseen" and will live in their hearts forever.
Nurses by nature are givers. We want to help, to heal and if we can't then to provide quality end of life care. In hospice we get some time to prepare. We know with each admission that all efforts to heal have been exhausted and the patient has chosen hospice care. With COVID-19 nurses are faced with critically ill and dying patients who didn't have a voice in their illness. These nurses are traveling an immediate and unbelievable path of their professional journey. It will end, this vicious virus but at what cost to everyone?
People will ask nurses, "are you okay?" They will answer, "yes, of course, I'm a nurse." But, the real answer is "no, of course not." How could they possibly be okay after seeing such catastrophic cases and such a high volume of death?
Nurses could experience PTSD. They will need to tell their story because it helps heal and to process what they have experienced. The scars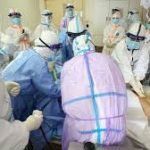 on their faces that we see on the news from hours of embedded face masks is visual but they will have scars on their hearts and souls that need attention too. Grief is a process. I still recall many years ago when another nurse asked me, "when do we get to cry?"
Picasso once said. "The purpose of life is to find your gift and the meaning of it is to give it away." So, thank you to every nurse for not only your nursing skills but your priceless dedication to the dying.
In my mind, I can roll the video of my years of health care experience. The good memories and the less good. Some nurses directly involved with COVID-19 now are new and some are very experienced but they will all appreciate kindness, love and support as they heal from this experience that no one has ever experienced before. Maybe similar but not exactly, this is theirs.
It isn't over and it won't be for many months but the examples of support from food, messages, signs in windows and children writing and drawing in chalk truly helps. Families are heartbroken because they can't be at the bedside with their loved ones. Our spirit can stay strong if we support each other. Grief isn't on any timetable and everyone grieves differently.
Mother Teresa once said, "It is not how much you do, but how much love you put in the doing."
So, thank you to every nurse, not just during "Nurses Week" in May but for who you are and what you are doing in these unimaginable times.
penny-davis.com
Every Wednesday we will be publishing Pandemic Weekly for, we hope, not too long. We invite you to submit your thoughts, essays, poems or songs. Please send to info@aftertalk.com.
Every Thursday we publish "AfterTalk Weekly." We invite readers to submit their own poem, essay, or suggestions for publication. If you are a therapist you are welcome to extend this invitation to your clients as well. Please send your submission to info@aftertalk.com