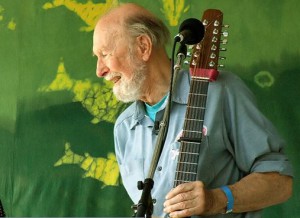 I know that Wendy wrote a blog yesterday about the passing of Pete Seeger, but I feel compelled to add my own thoughts and recollections. This is the kind of thing any of you can do in the Aftertalk Family & Friends feature; you can collect and share the thoughts of several friends or family members about the passing of someone who has meant a great deal to you. If you want a wider audience, you are welcome to use the Aftertalk Forums. Enough of the commercial; let's talk about Pete.
When people refer to the Great American Songbook, they mean a rich period of music of the first half of the Twentieth Century featuring the composers Cole Porter, George Gershwin, Irving Berlin, and many more. But there's another Great American Songbook created by a man named Pete Seeger and his friends and associates that is a songbook of change, a songbook of revolution, a songbook of uncensored self-examination. It is a songbook that draws attention to our worst traits like our propensities to make war on or exploit our fellow humans; it is also a songbook that celebrates the faith of our people, and our willingness to learn from our past and change the way we live.
I was probably twelve when I first became aware of Pete Seeger. The Sixties were just dawning and if you thought you were hip you listened to folk music or jazz and steered clear of Rock & Roll, or at least until the Beatles turned the music world upside down. Pete Seeger and the Weavers were bedrock. We had no CDs back then, so we'd play the same folk music LPs over and over until they were unlistenable. He didn't write them all, but he popularized works that became anthems of the Civil Rights Movement like "We Shall Overcome," and the Anti-War movement, like "Where have all the Flowers Gone?"
He was a tugboat guiding this great ship America toward a berth in which all people would be safe, and equal, and well fed, and be able to drink and bathe in water that was uncontaminated.  The last refers to his tireless efforts to save the Hudson River. Thirty years ago you wouldn't put your toe in the Hudson; now many of us swim in it without fear of infection. There's talk about naming the Tappan Zee Bridge for Pete. They absolutely should. His work with the Clearwater and Riverkeeper has enhanced the lives of everyone living along the Hudson.
The last time I heard him perform live was during the 2009 Obama Inauguration. He was around ninety then, and still amazing, considering his role in the Civil Rights movement. Before that, much of his song preaching was about the rights of working people. God, could we use him now. I can imagine what a young Pete Seeger would do with minimum wage and income inequality issues; and voting rights issues. This is what he'd say:
If you miss me at the picket lines, and you can't find me nowhere
Come on down to the court house, I'll be votin' right there
I'll be votin' right there
I'll be votin' right there
Come on down to the courthouse
I'll be votin' right there
I invite you to comment and share your recollections of Pete Seeger and how his music affected your life.
Best wishes to you, Pete.