Editor's Note: in honor of D-Day, we publish this poem written to his mother by a World War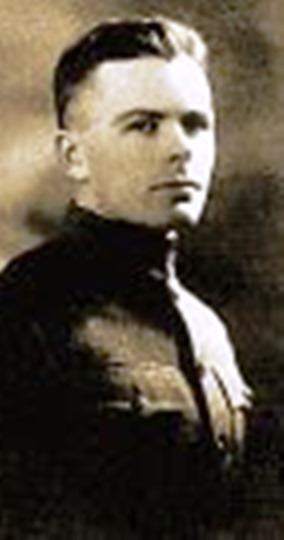 One veteran, John Hunter Wickersham, who died serving his country. A short bio follows.
The Raindrops on Your Old Tin Hat
The mist hangs low and quiet on a ragged line of hills,
There's a whispering of wind across the flat,
You'd be feeling kind of lonesome if it wasn't for one thing—
The patter of the raindrops on your old tin hat.
An' you can't help a-figuring—sitting there alone—
About this war and hero stuff and that,
And you wonder if they haven't sort of got things twisted up,
While the rain keeps up its patter on your old tin hat.
When you step off with the outfit to do your little bit
You're simply doing what you're s'posed to do—
And you don't take time to figure what you gain or lose—
It's the spirit of the game that brings you through.
But back at home she's waiting, writing cheerful little notes,
And every night she offers up a prayer
And just keeps on a-hoping that her soldier boy is safe—
The Mother of the boy who's over there.
And, fellows, she's the hero of this great, big ugly war,
And her prayer is on the wind across the flat,
And don't you reckon maybe it's her tears, and not the rain,
That's keeping up the patter on your old tin hat?
by J. Hunter Wickersham
Wickersham was born in Brooklyn, New York on February 3, 1890, to Mary E. Damon.[1] He moved to Denver, Colorado when a small boy and received his education in Denver. In May 1917, he graduated from the First Officers Training Camp at Camp Funston on Fort Riley, Kansas. He was commissioned a Second Lieutenant and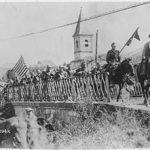 assigned to Company H, 353rd Infantry, 89th Division.[2] By September 11, 1918, he was serving in France. On that day, as his unit prepared to take part in an offensive which would become the Battle of Saint-Mihiel, Wickersham wrote one last letter home to his mother in Denver. The letter contained a poem, "The Raindrops on Your Old Tin Hat", which was later published.
The next day, on September 12, Wickersham was severely wounded near Limey, France, but continued to lead his platoon in its advance until collapsing and succumbing to his injuries. For these actions, he was posthumously awarded the Medal of Honor in 1919.
Every Thursday we publish "AfterTalk Inspirational." We invite readers to submit their own poem, essay, or suggestions for inspirational quotes for publication. If you are a therapist you are welcome to extend this invitation to your clients as well. Please send your submission to info@aftertalk.com