Remember
Remember me when I am gone away,
Gone far away into the silent land;
When you can no more hold me by the hand,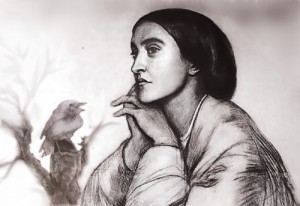 Nor I half turn to go yet turning stay.
Remember me when no more day by day
You tell me of our future that you planned:
Only remember me; you understand
It will be late to counsel then or pray.
Yet if you should forget me for a while
And afterwards remember, do not grieve:
For if the darkness and corruption leave
A vestige of the thoughts that once I had,
Better by far you should forget and smile
Than that you should remember and be sad.
-Christina Rosetti
Christina Georgina Rossetti (5 December 1830 – 29 December 1894) was an English poet who wrote a variety of romantic, devotional, and children's poems. She is famous for writing Goblin Market and Remember, and the words of the Christmas carol In the Bleak Midwinter. Rossetti began writing down and dating her poems from 1842, mostly imitating her favoured poets. From 1847 she began experimenting with verse forms such as sonnets, hymns and ballads; drawing narratives from the Bible, folk tales and the lives of the saints. Her early pieces often feature meditations on death and loss, in the Romantic tradition. She was ambivalent about women's suffrage, but many scholars have identified feminist themes in her poetry. She was opposed to slavery (in the American South), cruelty to animals (in the prevalent practice of animal experimentation), and the exploitation of girls in under-age prostitution.