I would like to tell you about the Melodies From The Heart foundation, how it came about and what we do.The foundation creates music and documentaries on grief and loss, especially the loss of a child. On one hand to give comfort, on the other hand to help break the enormous taboo on such a great loss.Melodies From The Heart came about when a very dear friend of mine, Marion Middendorp, asked me to compose music to a poem she had made some years ago. She wrote the poem right after her son Nick* passed away when he was only two days of age.It was a great wish of Marion to have her poem made into a song, because when Nicky passed away in her opinion there were very few suitable songs. Marion owns a website for parents and children in the Netherlands in honor of Nicky, and she wished to make the song available on her website for anyone. Like any parent who suffered such a great loss, Marion encountered the taboo on the loss of a child. Her idea was that making this song available on her site would give comfort and understanding, and create a way to get the conversation on loss started.
I was honored that Marion asked me to write music to such a precious and personal poem, so I didn't need to think about the answer. "Yes! I'd be happy to do that for you!". Soon I came up with the melody and chords and the song "Toch hoor jij er altijd bij" ("You will always be a part of us") was ready to be recorded as a demo. When I sent the demo to Marion she was very pleased with the result. It was exactly what it should be. The demo however was sung by me, and both Marion and me felt this song should be sung by a woman, a mother.
We also thought that the song would have a lot more impact if a well known singer would sing the lead vocals to this song. We wanted to reach as many people as possible, because that way more people would be helped and the  conversation could get started. After a search we
found that in Holland  the very well known female singer, actress and artist Wieteke van Dort was prepared to record the song with us. We got together a fantastic team of music professionals, and above all very dear friends, with whom we recorded the song. Producer Tom Pearce, guitarist (and my brother) Marco Knetsch, drummer Hans Meijer, engineer Rob Konst, arranger Patrick Schouten, singer Wieteke van Dort. On the record I play bass guitar.
Soon after that the song was released, it fortunately got a lot of attention on the internet, local and national radio and national television. The response was overwhelming. It was clear that there was a need for music on loss. The whole team who worked on "Toch hoor jij er altijd bij" was convinced that we should make songs on loss on a regular basis and we decided create a foundation. The Melodies From The Heart foundation became a reality.
Since "Toch hoor jij er altijd bij" we made a number of songs. Most of the time the songs are based on the story of parents. The stories behind the songs are so special that on some occasions we made a documentary to accompany the song on the story behind it. It is so special to create the songs and videos together with the people who want to share their stories. I have no words for how special it is to be able to do this work. Especially when you see how what we intended with the foundation is actually happening. People feel comforted, and the songs help start the conversation going. But a lot of work still has to be done.
In 2013 we decided we wanted to do something special for World Wide Candle Lighting every year. The first time the Dutch singer Martha Jane Settler recorded a song for us called "Nog heel even" ("Just a little while more"), and we made a videoclip for which people could send in a picture of their lost one. The song was in Dutch so we reached mainly Dutch speaking people, but the response was again overwhelming.
Pretty soon after World Wide Candle Lighting 2013 I got the idea of making a video with candles. I didn't want to work with still images this time, I wanted the candles to keep burning. So in October 2014 we posted a message on several social media sites and our website that people could send in a self-made video of a candle they lit for their loved and lost one for a new music video.
We started to receive clips with candles right away. Sometimes together with just a name, sometimes together with heartbreaking stories. Everyone sent in their candle in their very own way, which actually added to the beauty of it. This is the way it should be. The idea was that with each candle the name of the lost one for whom the candle was lit appeared for a while.
We think it is important that we keep talking about the ones we've lost and that we, and the people around us keep mentioning their names. That was one of the reasons for this video.
Now the idea for the video was pretty much worked out, but we didn't have any music yet. Being a composer myself, and being surrounded by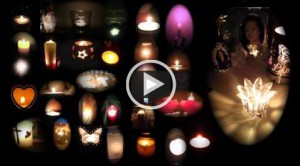 composers a lot of the time that should not really be an issue. But yet had to be done. Inspired by the e-mails one morning driving in my car I came up with some sentences. "We keep saying your name, over and over again. Your light shines forever. Your love goes on. Your name is written in my heart." And I started singing them right away. As soon as possible I  sang the lyrics in the voice-recorder app and sent it to my good friend and musical partner Patrick Schouten. Patrick is a fantastic composer/arranger and he made the music to my original idea, altering it to his ideas/feelings and within a day he sent back an arrangement to me. I just loved what he had made. Now "all" we needed was someone to sing the song.
I worked a number of times with singer Saskia Heemskerk and I really like her voice. I called her and she was immediately enthusiastic to collaborate. Saskia is a very warm and loving person. She came to the studio and it became a beautiful recording session. The session was very emotional as her singing was spot on, as if it were meant to be. We were very pleased with the result, and I continued editing the video. At the end of the video I added a scrolling list of names symbolic for all loved and lost ones for whom no candle-clip was sent in. When it was finished I sent it to everyone who participated. Everyone loved it, and we could hardly wait to release it.
A da.y before the second Sunday of December we started sharing the video on social media. Since it was in English we also shared it to several English social media. We are very happy that with this song and video we have reached so many people worldwide. Hopefully it will continu reaching people and will keep giving comfort and help starting the conversation.
The Melodies From The Heart Foundation will continu producing music and videos on loss. We are always open to suggestions for new songs and projects. Feel free to contact us with your suggestions of questions via our website, Facebook, Twitter or e-mail me directly if you like.
Your light shines forever,
Your love goes on,
Your name is written in my heart
Thank you for reading, and here is a link to the English language version of the website:
http://melodiesfromtheheart.org/en/
Jan Knetsch
Composer / Video director
The Melodies From The Heart Foundation