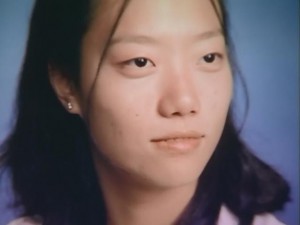 America has be riveted by the podcast called "Serial," a spinoff of the popular NPR series "This American Life." Serial's  Season 1 is an investigation into the 1999 Murder of Hae Min Lee, an 18-year-old student at Woodlawn High School in Baltimore, Maryland. She was last seen about 3 p.m. on January 13, 1999. Her corpse was discovered on February 9 in Leakin Park and identified two days later. The case was immediately treated as a homicide. Lee's ex-boyfriend, Adnan Masud Syed was arrested on February 28.  charged with first-degree murder, and subsequently convicted. He is serving a life sentence.
At the sentencing hearing in Episode 9, Hae Min Lee's mother, grieving for her daughter,  addresses the judge through a translator. Her statement to the court begins with a Korean proverb:
when parents die, they're buried in the ground, but when a child dies, you bury the child in your heart.
"When I die, my daughter will die with me. As long as I live, my daughter is buried in my heart. I don't know where to hear her voice, I don't know where to touch her hand. I would like to forgive Adnan Syed but as of now, I just don't know how to do that and I just cannot do that right now."
You can listen to Serial: Season 1 at this website, or download it to your phone or ipod:    www.serialpodcast.org/