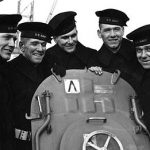 EDITORS NOTE: DURING THIS  MEMORIAL DAY WEEK, WE ARE RE-POSTING THIS IN HONOR OF  ALL THOSE WHO DIED IN THE SERVICE OF THIS NATION.
One of the saddest family stories of WWII was the death of the five Sullivan brothers from the USS Juneau in 1942. Below is a their story in brief, and President Roosevelt's letter to their mother.
The Sullivans enlisted in the US Navy on January 3, 1942, with the stipulation that they serve together. The Navy had a policy of separating siblings, but this was not strictly enforced. George and Frank had served in the Navy before, but their brothers had not. All five were assigned to the light cruiser USS Juneau.
The Juneau participated in a number of naval engagements during the months-long Guadalcanal Campaign in August 1942. Early in the morning of November 13, 1942, the Juneau was struck by a Japanese torpedo and forced to withdraw. Later that day,  the Juneau was struck again and the ship exploded and quickly sank.
The commanding officer of the USS Helena was skeptical that anyone had survived the sinking of the Juneau and believed it would be reckless to look for survivors, thereby exposing his wounded ships to a still-lurking Japanese submarine. Therefore, he ordered his ships to continue on towards Espiritu Santo. Helena signaled a nearby US B-17 bomber on patrol to notify Allied headquarters to send aircraft or ships to search for survivors.
But in fact, approximately 100 of Juneau's crew had survived the torpedo attack and the sinking of their ship and were left in the water. The B-17 bomber crew, under orders not to break radio silence, did not pass the message about searching for survivors to their headquarters until they had landed several hours later. The crew's report of the location of possible survivors was mixed in with other pending paperwork actions and went unnoticed for several days. It was not until days later that headquarters staff realized that a search had never been mounted and belatedly ordered aircraft to begin searching the area. In the meantime, Juneau's survivors, many of whom were seriously wounded, were exposed to the elements, hunger, thirst, and repeated shark attacks.
Eight days after the sinking, ten survivors were found by a search aircraft and retrieved from the water. The survivors reported that Sullivan brothers Frank, Joe and Matt died instantly, Al drowned the next day, and George survived for four or five days, before suffering from delirium  (though some sources describe him being "driven insane with grief" at the loss of his brothers), he went over the side of the raft he occupied. He was never seen or heard from again.
Here is the President's letter to their mother:
My dear Mr. and Mrs. Sullivan:
The knowledge that your five gallant sons are missing in action against the enemy inspires me to write you this personal message. I realize full well there is little I can say to assuage your grief.
As Commander-in-Chief of the Army and Navy, I want you to know that the entire nation shares in your sorrow. I offer you the condolences and gratitude of our country. We who remain to carry on the fight must maintain spirit, in the knowledge that such sacrifice is not in vain.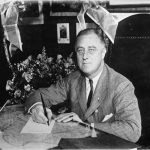 The Navy Department has informed me of the expressed desire of your sons, George Thomas, Francis Henry, Joseph Eugene, Madison Abel, and Albert Leo, to serve in the same ship. I am sure that we all take heart in the knowledge that they fought side by side. As one of your sons wrote, "We will make a team together that can't be beat." It is this spirit which in the end must triumph.
Last March you, Mrs. Sullivan, were designated to sponsor [launch] a ship of the Navy, in recognition of your patriotism and that of your sons. I understand that you are now even more determined to carry on as sponsor. This evidence of unselfishness and of courage serves as a real inspiration for me, as I am sure it will for all Americans. Such acts of faith and fortitude in the face of tragedy convince me of the indomitable spirit and will of our people.
I send you my deepest sympathy in your hour of trial and pray that in Almighty God you will find the comfort and help that only He can bring.
Very sincerely yours,
(Signed)
Franklin D. Roosevelt