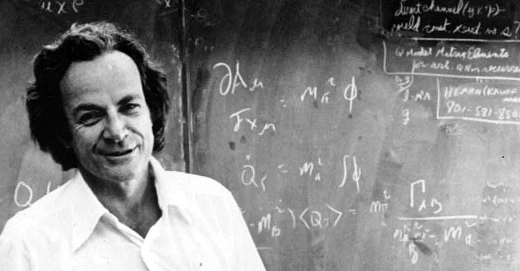 [Editor's Note: I was going to write the perfect post for Valentine's day when my colleague Lisa alerted me to this post from the remarkable website WhatsYourGrief.com entitled "Dear Love: Healing through Writing Letters." It could not be said any better. Thank you Eleanor for giving us permission to reprint it here.]
Dear Love: Healing Through Writing Letters
In June of 1945, Arline Feynman — high-school sweetheart and wife of the hugely influential physicist, Richard Feynman — passed away after succumbing to tuberculosis. She was 25-years-old. 16 months later, in October of 1946, Richard wrote his late wife the following love letter and sealed it in an envelope. It remained unopened until after his death in 1988.
(Source: Genius: The Life and Science of Richard Feynman; Image: Richard Feynman, via.)
October 17, 1946

D'Arline,

I adore you, sweetheart.

I know how much you like to hear that — but I don't only write it because you like it — I write it because it makes me warm all over inside to write it to you.

It is such a terribly long time since I last wrote to you — almost two years but I know you'll excuse me because you understand how I am, stubborn and realistic; and I thought there was no sense to writing.

But now I know my darling wife that it is right to do what I have delayed in doing, and that I have done so much in the past. I want to tell you I love you. I want to love you. I always will love you.

I find it hard to understand in my mind what it means to love you after you are dead — but I still want to comfort and take care of you — and I want you to love me and care for me. I want to have problems to discuss with you — I want to do little projects with you. I never thought until just now that we can do that. What should we do. We started to learn to make clothes together — or learn Chinese — or getting a movie projector. Can't I do something now? No. I am alone without you and you were the "idea-woman" and general instigator of all our wild adventures.

When you were sick you worried because you could not give me something that you wanted to and thought I needed. You needn't have worried. Just as I told you then there was no real need because I loved you in so many ways so much. And now it is clearly even more true — you can give me nothing now yet I love you so that you stand in my way of loving anyone else — but I want you to stand there. You, dead, are so much better than anyone else alive.

I know you will assure me that I am foolish and that you want me to have full happiness and don't want to be in my way. I'll bet you are surprised that I don't even have a girlfriend (except you, sweetheart) after two years. But you can't help it, darling, nor can I — I don't understand it, for I have met many girls and very nice ones and I don't want to remain alone — but in two or three meetings they all seem ashes. You only are left to me. You are real.

My darling wife, I do adore you.

I love my wife. My wife is dead.

Rich.

PS Please excuse my not mailing this — but I don't know your new address

Sigh.  This letter was written 16 months after Arline died of tuberculosis at the age of 25.  The letter remained sealed in an envelope until after Richard Feynman's death in 1988.

How many of you feel like you can relate to Richard on some level?  He's a self-proclaimed stubborn and realistic man.  He admits there's little logic in writing to his deceased wife.  Yet he still finds himself, two years later, professing his enduring and abiding love for his dead wife in a letter than can never be sent.

Valentine's Day is only a few days away.  It seems like everyone's making plans, buying boxes of chocolates, sending valentines and writing love letters.  Although this is a day that traditionally focuses on romantic love, it can be hard for grievers no matter who they are missing.  A parent, sibling, child, spouse or partner are all people you may have interacted with on this day in the past and so it follows that you would now be affected by their absence.

If you want to bow out of Valentine's Day altogether, I support you. As far as holidays go, Valentine's Day is second-tier and you certainly won't be the only one not celebrating. But before you sit down for your anti-Valentine's Day movie marathon or crawl under the covers and go back to sleep, I want to challenge you to do one thing – be like Richard and write a love letter.  Stick with me because this is simple and I'm going to offer several options, including one for doing this with the kids.

Please believe me, writing helps.  We've written about letter writing and journaling in the past; but you don't have to take our word for it.  Google 'therapeutic writing', 'healing through writing', 'does journaling help', and 'writing and grief' and you will see that the written word is a tried and true tool for helping people heal from emotional, stressful and traumatic events.  There's just something about getting things down on paper.

How and where you want to do this is up to you.  I'm simply going to offer a few ideas and I hope you will consider giving one a try.

With regards to what to do with the letter when you're done; if the letter wasn't written to a living person, then you have a few options:

Destroy the letter
Seal it in an envelope and keep it somewhere private
Save it somewhere on your hard drive or check out the website Aftertalk.com where you can write to deceased loved ones and save your writing for as long as you wish
Keep it close to you in your wallet or beside table
Send it to someone who might appreciate it
Share it with others who miss the person via e-mail, Facebook or personal blog
Share it anonymously or in a forum.
Feel free to share some of all of your letter in the comments below.

Write a love letter to the person who has died

Write a love letter as though the person is still alive.  Tell them all the things you love and appreciate about them.  Tell them something you never got the chance to say when they were alive.
Write a love letter recalling a favorite memory that you two shared.  For example describe a day at the beach or the day they were born, tell them all the reasons why you cherish the memory.
Write a love letter telling the person how much you miss them.
Write a love letter bringing the person up to speed on everything that has happened since their death.  Tell them how you've grown and changed.  Tell them how you continue to honor their memory.

Write a love letter to someone else

Reach out to someone you know may also be sad, alone or grieving their own loss.
Write to someone you have lost touch with since the death of your loved one.
Write to someone who has been a good support to you since the death of a loved one.
Knowing that life is short and unpredictable, seize this opportunity to write a letter to someone telling them something you've been too shy, embarrassed, or hesitant to say.
Write a letter to someone you know your loved one appreciated.  For example, a favorite teacher, a friend, a religious leader, or someone who showed them kindness.

Write a love letter to yourself

Write to yourself and acknowledge all the ways you have grown and changed since your loved one's death
Write to yourself and acknowledge at least 5 of your greatest strengths and personal qualities.
Write a letter to yourself at the time of your loved one's death.  Give your past-self advice; tell your past-self about the most important lessons you've learned; and provide your past-self with words of encouragement.

Completing the exercise with children

Has your child experienced the death of a parent, grandparent, aunt or uncle, sibling or other relative?  Then instead of writing a love letter, sit down with the kids and create a valentine.  Here are a few suggestions.

Decide who the valentine is for?

The person who has died.
If the person who died was a more distant friend or relative, create the valentine for someone close to the deceased.

Create the valentine…

Talk about the valentine first.  Discuss how even though the person has died, there are still many people who love and miss them.  You might want to tell them what you will do with the valentine when it's done.
Ask them what they think they should put on the valentine.  Talk about their favorite memories and discuss objects and pictures that remind them of their loved one, what they miss about the person, what they loved the most about the person, and the things they wish they could tell them.
If the valentine is for someone else, discuss a message you could write on it to make the person feel better.
Collect pictures, objects and magazine cut outs that remind the child of the person who died.  Allow the child to decorate and draw whatever they like, but ask them questions about their choices. Help them with a message if they like.

Decide what to do with the valentine…

If the valentine is for a relative of the deceased, decide whether you will send it or hand deliver it.
If the valentine is for a person who has died, decide whether you will keep it somewhere special or leave it in a special place that reminds the child of the person (ex. grave marker or their favorite park)

If you are having a tough time with Valentine's Day, feel free to leave a comment or send an email.  Also, check out WhatsYourGrief.com's  latest podcast on the five stages of grief.